AARCH Sheds Light on Locals and Visits Participants on Black History at Juneteenth Freedomfest | History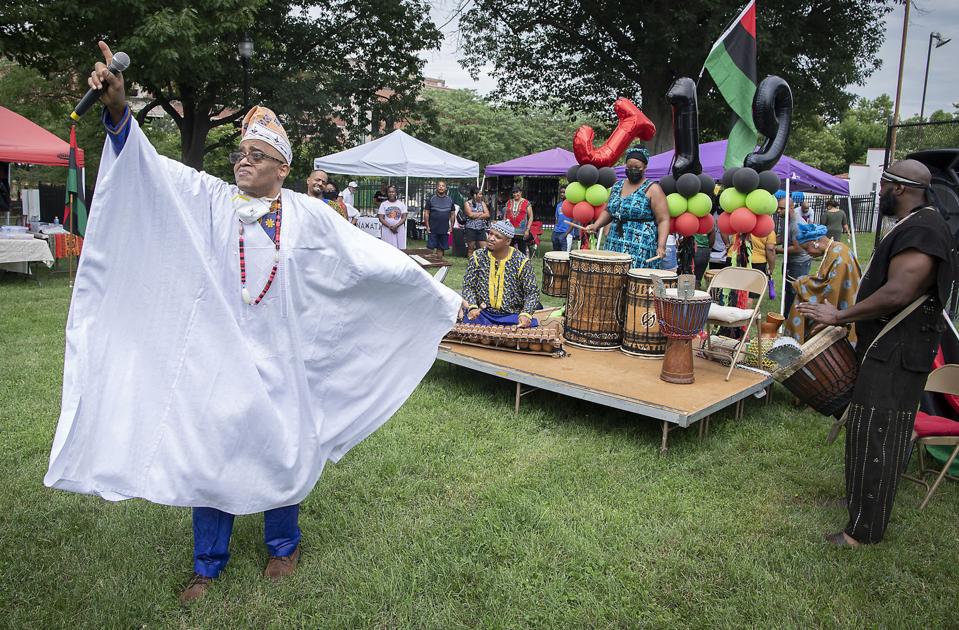 Filling Mullinix Park with vibrant colors, drumming and heartwarming aromas, dozens of people gathered on Saturday to celebrate June 16 with Freedomfest, an event of remembrance and the continued plight of black people in the United States.
For the African American Resources and Cultural Heritage Society of Frederick County, Juneteenth is an opportunity to educate people about Frederick's often overlooked black history. The group ran tours every half hour on Saturdays, circling Mullinix Park, walking down West All Saints and South Bentz Streets, sharing the history of the park and the area around it. Participants also learned the direct story of Frederick with Juneteenth.
In April 1865, the Confederate Army surrendered to the Union, officially ending the Civil War and freeing slaves across the country. But in Texas, the westernmost Confederate state, news did not reach until two months later, on June 19, when black soldiers marched to Galveston, Texas, to spread the word. .
Some of the valiant soldiers who brought the news were from Frederick: Lewis Johnson, Abraham Stout, and John Johnson II of the 29th United States Colored Infantry Regiment.
"I always say it's the main thing for Frederick to have soldiers, because it's just the feeling, the feeling of pride to go out there and help your people," said Sonja Brown. -Jenkins, AARCH member and tour guide.
Brown-Jenkins led his groups to West All Saints Street and called it Frederick's "Black Wall Street". the epicenter of black citizens, Brown-Jenkins said.
She highlighted iconic sites – like the ancient Minnesota Vikings who ran Chuck Foreman's childhood home – at 136 W. All Saints St.
There was also the Union Hospital that Dr. Ulysses Bourne Sr. and Dr. Charles Brooks opened in 1919 when they couldn't practice medicine at Frederick City Hospital. The hospital had 15 beds and two nurses. According to Brown-Jenkins, black doctors took care of everything except childbirth.
Pythian Castle, a building that has become a hub for music, dance, political and social gatherings and served as a tailoring factory, was also discussed during the visit. It has hosted renowned artists like Count Basie, Fats Waller, and the all-female Sweethearts of Rhythm.
Cecilia Summers lives in Brunswick and attended the tour to gather more information on the tours she will be giving soon to the town of Frederick. Summers said she was amazed at what she learned. It brought back memories of his childhood in the 1960s, when his mother took him to the area.
In this small block, Summers reflected on when she would do her hair, have some ice cream, and visit her dentist, Dr. Snowball. What she really enjoyed on Saturday was learning about the ingenuity of African Americans. They couldn't thrive downtown, so they made their own place.
"I am very proud to be a descendant of slaves, I am. I am very proud of it. And I just see how far we've come, "Summers said.
Sasha Carrera came with her father, Nick. Coming just outside Urbana, Carrera said she has been on another historic Frederick tour before. What struck her was how similar events were told in contrasting ways.
For example, Baker Park's namesake Joseph Dill Baker was described as a philanthropist and grown-up on Carrera's first tour. However, during the AARCH tour, Brown-Jenkins said Baker gave black citizens the worst two acres of a 54-acre lot when they requested a recreation area.
"It kind of puts things in a more realistic light," she said.
Natalie St. Fleur felt that the best part of the tour – and tours similar to it – was the way it presented the heritage of black communities. Originally from New York, St. Fleur spoke about the plethora of cultural spaces in New York. But when it comes to similar black communities, they are not as dominant as they are more fragmented.
"There will be certain neighborhoods, like it's Chinatown, it's Little Italy, and they have that cultural sense. I don't think it shows so much in many black communities, "said St. Fleur.
St. Fleur was accompanied by her friend, Janet Officer, on the tour. The officer found the tour interesting and said she looks forward to the opening of her own heritage center by AARCH in 2023 and the more detailed AARCH tours starting in July. The tours offered in June were condensed versions of these.
"I think they've just scratched the surface of the story. It was really interesting to walk around and listen to the story being told, you know, but I think there's a lot more, "Officer said.
Follow Clara Niel on Twitter: @clarasniel