Local memorial temporarily moved to The Exploration Place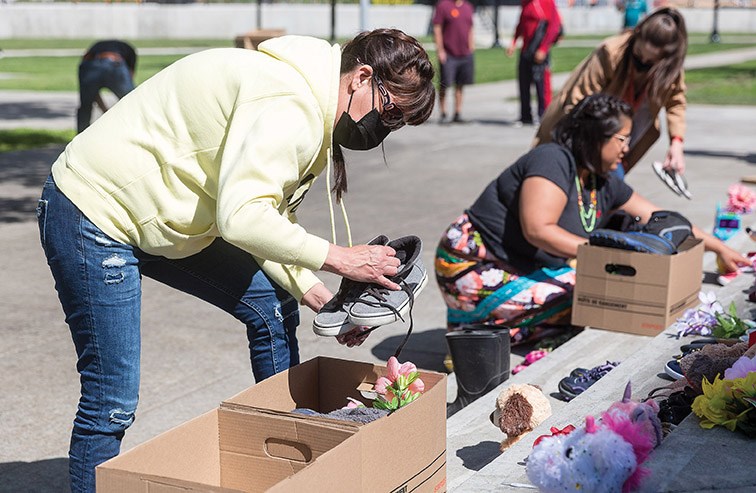 The local memorial for the 215 children whose remains were found at a former residential school site in Kamloops will be moved to the museum for preservation until a decision is made on a permanent memorial.
A memorial for the 215 children whose remains were found at the site of a former Kamloops boarding school had been set up on the steps of Town Hall until Friday afternoon, when it was recovered and moved to The Exploration Place for preservation. The museum will keep the memorial items until a decision on a permanent memorial has been made.
Chef Dolleen Logan and Communications Manager Kevin Brown were on hand from Lheidli T'enneh as they worked alongside The Exploration Place CEO Tracy Calegheros and her team to neatly place the hundreds of shoes, stuffed animals and other items in boxes for transport to the museum. A set of grandparents with their two grandchildren who visited the memorial also helped box the items.
In a press release, the Lheidli T'enneh First Nation announced that the memorial to the 215 children found in a mass grave at Kamloops Residential School currently on display at Prince George Town Hall will be moved to The Exploration Place for custody. temporary. The LTFN says the children's shoes and other items that make up the memorial are extremely important to all First Nations and community members. The Chief and Council believe that before the next rain arrives and for the protection of the items people have placed at the memorial, he should organize safe temporary storage at The Exploration Place.
Lheidli T'enneh First Nation Chief Dolleen Logan says, "Our nation has entrusted The Exploration Place with some of its most treasured historical assets. We have enjoyed a valuable partnership with The Exploration Place over the past two decades. We know that the contents of the memorial to the 215 children found buried in a mass grave at Kamloops Residential School will be in good hands at The Exploration Place. "
Chief Logan continued, "Our Council supports discussions with our partner organizations such as the City of Prince George, the Fraser-Fort George Regional District, The Exploration Place and others to determine an appropriate site for a permanent memorial to the United Nations. 215 children who never had the opportunity to grow up, laugh and pursue their dreams. We have always said that the memory of their life should never be forgotten. This is true of all children who died while attending residential schools across Canada. Our nation and The Exploration Place keep this monument safe until a permanent site can be determined. We make this promise to the 215 children found buried in a mass grave at Kamloops Residential School and their families. We make this promise to all residential school survivors and to all who contributed something to the memorial that was on display at Prince George City Hall. Our nation thanks the city of Prince George for taking great care of the Memorial since it began appearing a week ago. We now accept responsibility for continuing this care and protection with our partner The Exploration Place. "